Emerging Trends In Real Estate-2021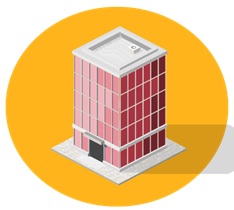 Office
This year has seen a reversal of past trends, in large part due to COVID-19. While in previous years we saw a move towards reduced space requirements and increased densification with the rise of open-concept offices and co-working environments, physical distancing measures may be prompting a need for more space.
While some companies have begun bringing employees back to physical workplaces, returning to the office remains elusive. We asked employers and employees about their views on this in our recent Canadian workforce of the future survey. Of employers that had yet to return to the workplace, 78% expected to do so to at least some extent in the next three months. When we asked employees about their ideal work environment, 34% said they prefer to work mostly or entirely remotely; 37% want to be in the office most or all of the time, with the remaining 29% looking for an even split between the two options.
The findings reflect ongoing uncertainty about the extent to which tenants will bring their employees back to offices. But some developers and institutional investors are confident the market will come back because humans are social creatures—they're suffering from video-conferencing fatigue and miss spontaneous in-person collaboration.
While remote work has generally turned out to be productive, some of our interviewees question whether this is sustainable. There's also a strong feeling that face-to-face interaction is important, especially for hiring, integrating and mentoring entry-level staff and for developing organizational culture.
For now, office is seeing a shift. While JLL Research found Canada's office vacancy rate of 10.2% in the second quarter of 2020 was just 40 basis points over the long-term (20-year) average, COVID-19 is amplifying demand for more flexible commercial real estate, including short-term leases. Some interviewees also question whether the pandemic will spark renewed interest in suburban office development as some employees look to work closer to home. While there's no clear trend in that direction, there's an overall sense that despite its resilience, the office segment will need to evolve.
Retail
Interviewees are seeing a structural shift in retail, but it's an acceleration of the already-existing move towards e-commerce. Several retailers, including big-name brands, have shut their doors permanently or are seeking creditor protection. Enclosed malls have been hit particularly hard, and street retailers in downtown cores like Toronto, Montreal and Vancouver are seeing less foot traffic because many office towers are still mostly vacant.
As the federal government's rent relief program comes to an end, some tenants are looking to negotiate additional rent-free periods or new arrangements, including full conversion to rents based on percentage of sales. Even with these efforts to stay afloat, many retailers are worried the pandemic will permanently change consumer behaviour in favour of e-commerce.
There's a strong sense among interviewees that retail properties need to evolve. Malls might convert into residential or mixed-use properties, possibly using some of that space for warehousing, distribution or fulfillment—including last-mile delivery—to satisfy the growing demand for online shopping. Community-based uses, like health-care services, are another rising trend.
It's expected that grocery-anchored strip malls will fare best, as grocers have seen record sales during the pandemic. Bigger players may begin to reallocate capital away from retail properties in Canada and focus on other asset classes, while landlords could find themselves making concessions by cutting rents. Tenants may not be able to pay full rent, but at this point, it will be challenging for landlords to fill vacant spaces. But many interviewees said predictions about the death of retail are probably too harsh since humans are "social animals and we need to be in social places."
Industrial real estate
Logistics, warehousing and fulfillment are the clear winners this year. This segment of industrial real estate has remained resilient throughout the pandemic—in large part because of a surge in demand from e-commerce, food delivery services, home improvement retailers and, to a lesser degree, medical supply companies.
Much of the country continues to see tight market conditions, according to CBRE's report on the Canadian industrial real estate market for the second quarter of 2020. The availability rate has edged up since the start of the pandemic, but at 3.5% nationally, it's still well below the 10-year average of 5.1%. Many interviewees are seeing rents go up significantly. Six of 10 markets saw an increase in rental rates over the prior quarter, and the national average net asking rent was up by almost 10% from the same period last year, according to CBRE.
The biggest challenge, according to interviewees, is getting their hands on high-quality distribution space to facilitate e-commerce. Redundant retail space might be repurposed into industrial uses to help with last-mile delivery and overall fulfillment and distribution. In Atlantic Canada, ports in Halifax and St. John have both undergone upgrades and modernization, so there's an expectation the industrial and storage segments will benefit. We're also starting to see multi-level industrial properties in certain areas, like Vancouver, although this has yet to take root across Canada.
https://www.pwc.com/ca/en/industries/real-estate/emerging-trends-in-real-estate-2021/commercial-property-outlook.html