An Interview with Rocco Trigiani: The Young Professional Broker of the Year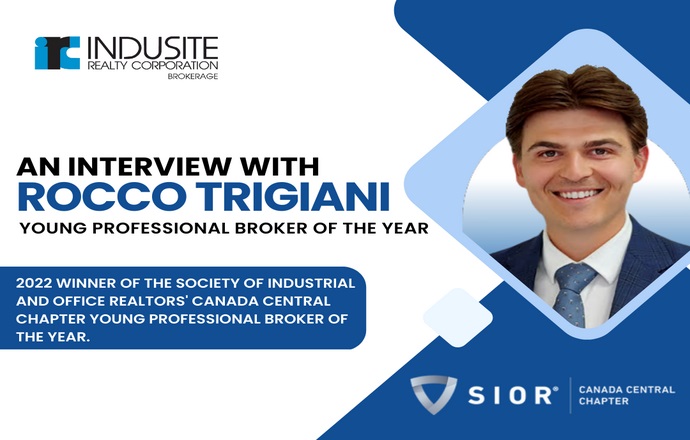 We are thrilled to bring you an exclusive interview with Rocco Trigiani, the 2022 winner of the Society of Industrial and Office Realtors' Canada Central Chapter Young Professional Broker of the Year Award. This award is a testament to Rocco's expertise, passion, and dedication to the commercial real estate industry. In this interview, we will delve into Rocco's background, his approach to real estate, and what sets him apart as a young professional broker. We will also get an inside look into the strategies and insights that have propelled Rocco to the forefront of the industry, making him one of the most sought-after brokers in Canada.
What steps did you take to break into the Commercial Real Estate industry?
I studied Real Estate and Housing at university, and during the summer I worked at a job at Royal LePage. While working in the management team, I was told several times that I should become an agent.


During my 3rd year in university, I decided that it wouldn't hurt to become an agent.
While doing my university courses, I studied and wrote all my real estate exams through OREA (Ontario Real Estate Association). I became a licensed Realtor in my 4th year of university and was ready to go back to RLP full time. Instead, I was referred to an owner of Indusite and told I should sit down with them to see if I liked commercial or residential.


After my first meeting with Indusite, I was excited and wanted to start as soon as I graduated. The day I graduated, I went directly to Indusite to start my career in commercial real estate.
I convinced them that it was in their favour that I was young; I have more time, and I will do things these experienced guys won't.
Can you tell us about a deal you closed this year that you are particularly proud of and why?
2201 Drew Road, Mississauga – Off-Market – 24,485 Square Feet – 1.21 Acres.


I was approached by two partners who were no longer interested in working together, and who also had a few stipulations that would make selling their property more difficult than usual.


First, they did not want the property put on the market, as they did not want any employees finding out about the sale.


Second, one of the partners not only needed to stay in the building as a tenant for one year, but also wanted a significant discount on rent.


Finally, friction existed between the partners as the one who needed to stay in the building was more concerned about his future rent as opposed to the deal as a whole.
I knew I had to be extremely creative and that the purchaser would have to be someone that did not need the building immediately and was willing to endure a year with a below-market leaseback.
I told a few of my colleagues about the building, and after a couple of weeks of showings, we had multiple offers. One group saw the long-term value of the property and agreed to pay a great price and allow the partner to leaseback at only $5 net per square foot; the sellers were extremely happy with the outcome. This was sold off-market with in-house collaboration by Indusite brokers only.
Since I have such a passion for cars, I like to involve it into my networking and relationship building.
How do you approach networking and building relationships in the industry as a young professional?
I believe that networking and building relationships are extremely important and can be done doing anything social. I have always been an extremely enthusiastic car lover. Lots of weekends have been spent at car shows, car events, racetracks etc. Since I have such a passion for cars, I like to involve it into my networking and relationship building.
Over the years I have met extremely wealthy and fun people through this car community, and lots of them became clients. Through this, I have sold, leased and helped out many of these clients. I keep in touch with them, whether it be business, cars or in many cases, both.
What are some of the biggest challenges you have faced as a young professional in the commercial real estate industry and how have you overcome them?
At the beginning of my career, I found it very hard to start as a young man.
I was 22 years old with no experience, trying to complete with 50-year-old professionals with 20+ years of experience.
Not to mention, a lot of these successful agents have teams of multiple people. I was all on my own, working very hard to make a name for myself. Lots of times people thought I was too young and inexperienced.